Macclesfield and District Young Stroke Society
Reports on Events in 2023
Tatton Park Coach Trip - Sunday 3rd December - Monica Meah
Sixteen people braved the ice and snow to spend the afternoon at Tatton Park. Knutsford. The majority of the group went on the accessible coach. It was good to meet up with the driver Patrick who we hadn't met since our holiday to the Isle of Wight in 2018.
Patrick dropped us off near the 'stables' (not used for horses anymore) where we had our lunch. We had a lovely pumpkin soup, warm roll and butter, followed by a warm mince pie and coffee or tea. We then visited the house. The theme of the decorations was 'Wonderland' based on Lewis Carroll's Alice in Wonderland. Different rooms were decorated in different themes from the story. Following in Alice's footsteps, we went through the Duchess Garden, the Queen of Hearts grand palace and on through the amazing Magic Forest. We then saw the fantastic Mad Hatter's Tea Party before entering the Queen of Hearts kitchen. The route was decorated with beautiful Christmas trees and Christmas decorations.
After the house tour we visited the Christmas Market; this was indoors, for which everyone was grateful. There were a lot of stalls with a variety of wares: woolly hats and scarves, jewellery, art work, whisky gifts and tasters, crafts, Christmas decorations, and ladies and children's clothes.
Our final stop was for mulled wine or a Bailey's coffee, which were eagerly drunk by some of us. We enjoyed the afternoon, and it got us into the Christmas spirit. Thanks to the Committee for organising an enjoyable outing.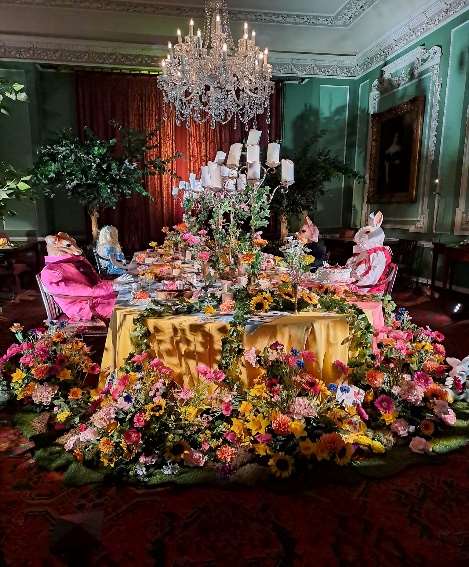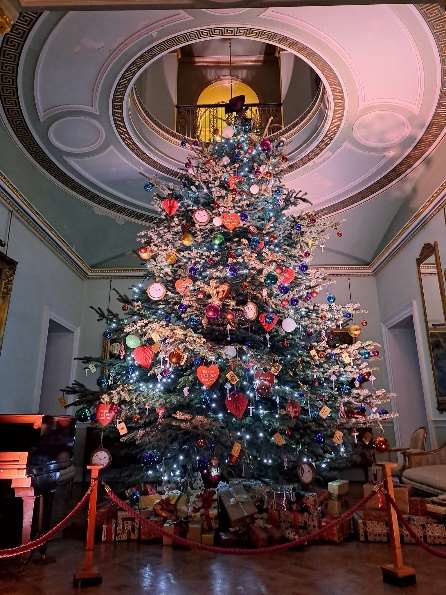 Viceroy Indian Meal, Bollington - Sunday, 29th October
Twenty members went along to the Viceroy restaurant in Bollington for an Indian meal on Sunday, 29 October. We were seated at two tables of ten and, following the usual poppadoms with various dips, the group had plates of mixed starters.
Each of us had selected our main course from a wide range of dishes, according to our desire for the level of spiciness. These were served with pilau rice and nan bread. Those who still had room afterwards, were rewarded with a dessert of ice cream.
Throughout the meal, the Viceroy staff were extremely pleasant and helpful, and before our arrival had put a ramp in place over the few steps into the restaurant to aid access for our wheelchair users. All in all, an enjoyable way to spend a Sunday afternoon.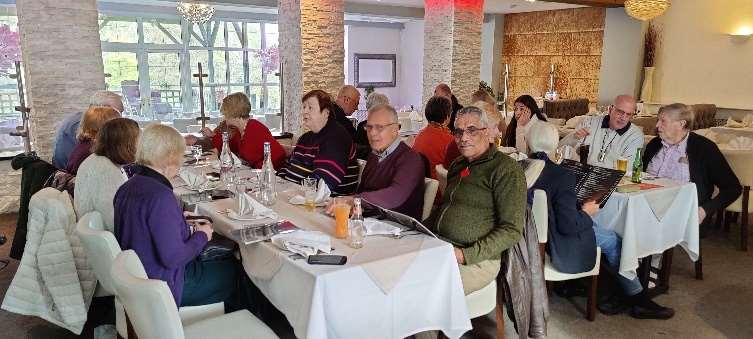 MADYSS attendees at the Viceroy making their selections from the menu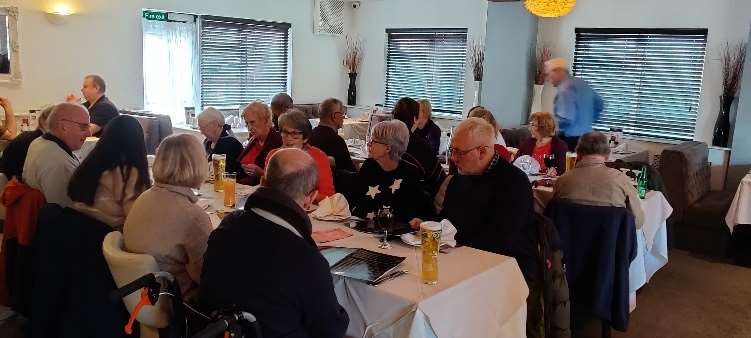 Drinks at the ready and waiting for the food to arrive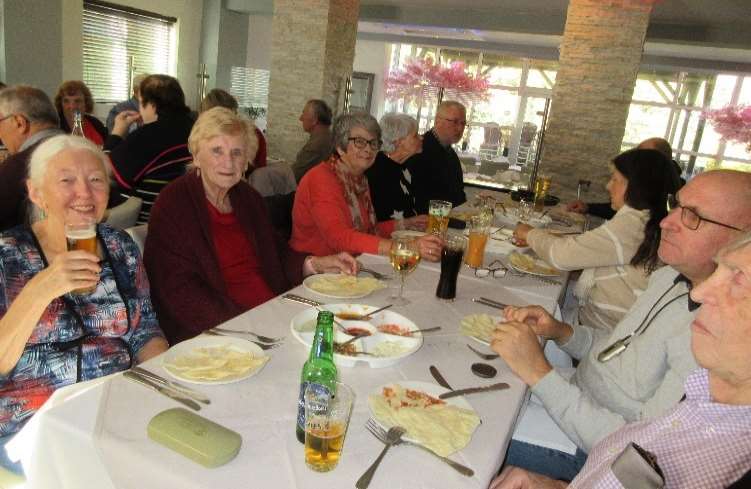 Enjoying the poppadoms and dips
Coach to British Iron Works Centre, Oswestry - Wednesday, 27th September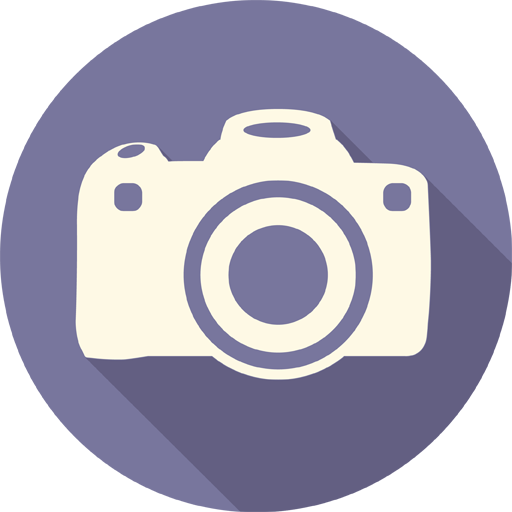 It was a little concerning when we went to The British Ironworks as Storm Agnes was forecast. We were very lucky and although the weather could have been kinder to us it wasn't too bad. Cool and a little rain now and again. Of course, the sun shone on the way home! Having originally had our highest number of 29 booked for the coach trip, on the day we were a small select group of 13! For some people it was unavoidable health issues that prevented them going.
On arrival we all set off for the Café and enjoyed lunch before exploring. It wasn't as busy as it usually is, which was good. Everyone went their own way afterwards and some of us (after finding the recycling bins of which there are now 10) went to visit Ned in his shed where we watched him create a lovely little decorative piece from a plain block of wood. He demonstrated how he looks at, treats, and creates with his wood. It was extremely interesting.
We then looked at some of the metal creations that were amazingly realistic. Once back on the coach and before we set sail for home, we were given free ice cream and free passes for a future visit which was lovely.
Our driver, Stuart, was then allowed to drive around the area that we had not seen before we left. He was given ice cream too and deserved it. He was very thoughtful and helpful to us all and the route he chose was easy with no holdups so we were earlier than expected in both directions. When we arrived back in Macclesfield, Agnes was waiting for us!
The Poachers Quiz Night - Sunday, 24th September
The quiz was held on Sunday, 24 September and as is usual at The Poachers, there was a very good turnout. We'd like to say a huge thank you once again to the local Community for their very generous support. A total of £135 was raised from our raffle; thank you to those who donated prizes.
Our MADYSS quiz team was given the name Madyssation, and we came a very respectable third. The team members were: Sue Stephenson and daughter Emma, Kay Kennedy, Tracey Higgins, Kay Evans, and Debbie and Mike (who were representing Anne and John Swindell in their enforced absence).
Wilmslow Garden Centre, Wilmslow - Thursday, 24th August
There was a good turn out on Thursday, 24 August at Wilmslow Garden Centre with 16 hungry souls looking forward to a hot meal. The menu offered a selection of five items to choose from. Everyone seemed to be happy with the choices available. Mixing a meal with good conversation and a wander around the garden centre made for a very pleasant afternoon.
Jodrell Bank Observatory - Thursday 13th July 2023
Twenty-two members and friends met up at Jodrell Bank for our day out. We were so lucky with the weather as it had been a wet week, but Thursday was dry, warm and sunny. This meant wandering around the Observatory was a more pleasant experience than it would have been otherwise!
At noon we attended the Through the Night Sky show held in the Space Dome. The one-hour presentation, which was given by a very knowledgeable lady, gave lots of interesting data on the Sun, Moon, and planets. As the night sky changed, she was able to point out the different constellations and drew our attention to familiar Star Signs such as Virgo and Cancer and to other less familiar Signs. The writer learned that it takes 8 minutes for the light from the Sun to reach Earth, that Saturn's rings are made of ice, and that the Apollo moon landing in 1969 was on the Sea of Tranquility.
The Observatory's café was conveniently located in the same building and many of us repaired there after the show for sustenance. As it was warm and sunny, some members chose to eat outside.
There are plenty of different areas to explore. A walk down the Exhibition Pathway, which has a number of poster stands, proved both interesting and educational, as did the Space Pavilion with stands about the Lovell telescope and various other telescopes and equipment, which included a space debris tracker.
A visit to Jodrell Bank wouldn't be complete without going down to the Lovell Telescope; at 76 metres in diameter, it is the world's third largest telescope.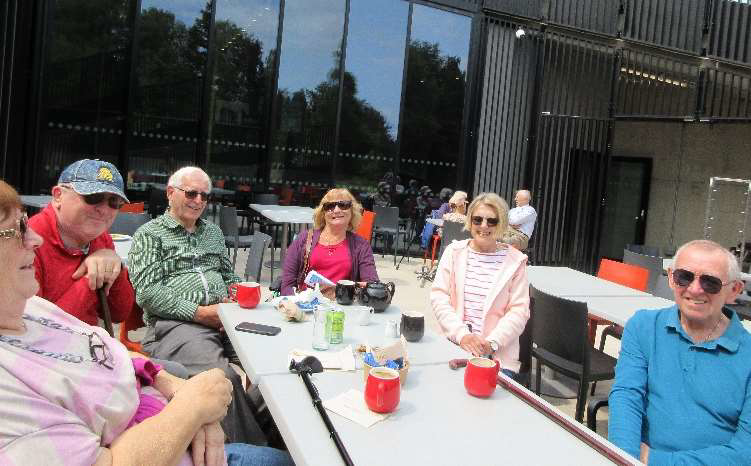 Bev, Colin, Don, Sylvia, Sue & Keith relaxing post-lunch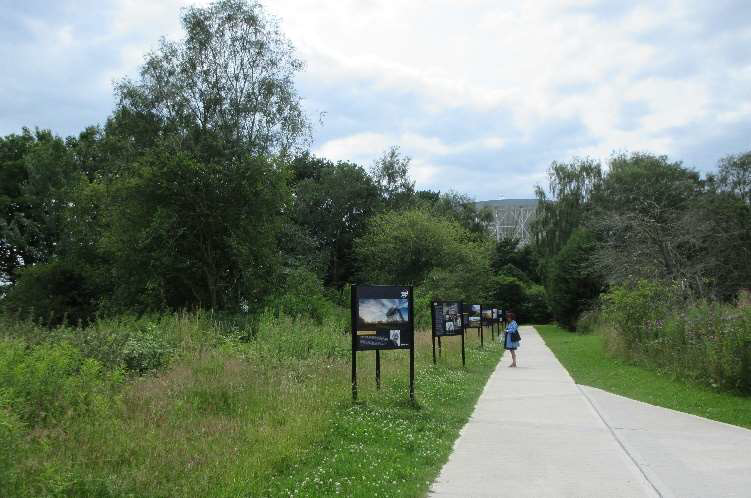 The Exhibition Pathway with poster boards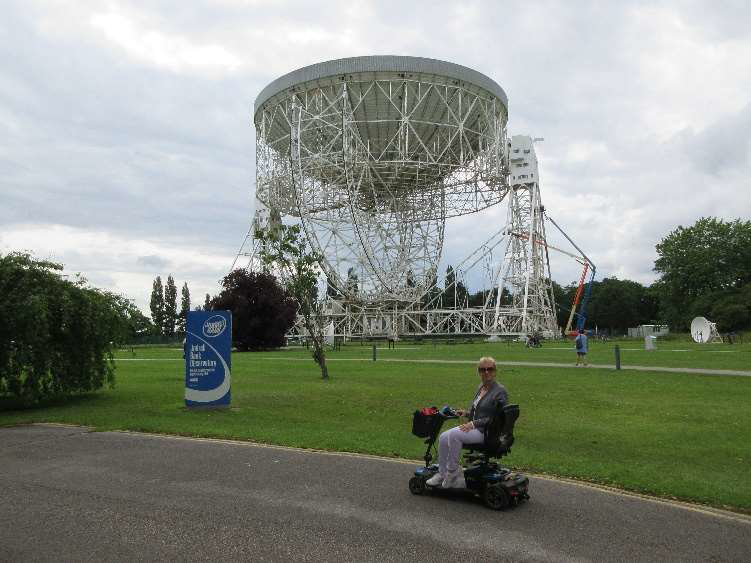 The Lovell Telescope
(with a MADYSS attendee to give some perspective)
RHS Garden Bridgewater - Tuesday 27th June 2023
We had a really good and very informative day at RHS Bridgewater on Tuesday. The 156-acre garden has been constructed on the former estate of the Duke of Bridgewater and opened in May 2021. We were split into two groups for our guided tour of the Walled Garden. The RHS volunteer guides, Gordon and Ashley, were excellent: providing an historical context to the garden, explaining about its development, then describing the different garden areas within the Walled Garden.
They also highlighted the urban themes that had been incorporated, and explained about a garden area that was devoted to community wellbeing and another where local communities had plots they could work on and develop.
At the end of the tour we split up and went our separate ways, some having lunch either at the Stables Café or the larger, main Bridgewater Café before exploring the grounds further. A pleasant walk to Ellesmere Lake went through the Chinese Streamside Garden. Although it is still under construction (pagodas will be built there), the winding path to the lake comprised various pretty and colourful plants, and water elements with rocks and stones strategically placed along the route.
Our thanks go to Kay as main organiser and also to Bev for her able assistance, but we shouldn't forget Tony, our Belle Vue Coaches driver, who did a sterling job loading/unloading scooters and wheelchairs.

Report on AGM at Macclesfield Tennis Club - Wednesday 10th May 2023
The 16th Annual General Meeting was well attended by members with 37 present including the Committee. John Swindell opened the meeting and paid tribute to those members who sadly were no longer with us: Dave Barry, our former Chair Ike Karnon, and Ian Meah.
John then reviewed MADYSS social events over the past year, which included trips to Llandudno, Port Sunlight, and Cadbury World, as well as meals out at the Chilli Banana and Viceroy Indian. Judy Fleming followed on and presented details from the Treasurer's Report.
The Committee was reappointed en bloc, and Bev Eccles also was elected as Activities Assistant to Kay Evans due to Monica Meah's stepping down from this role.
After an enjoyable buffet lunch, which was catered by the Windmill Sandwich Bar, our speaker for the AGM was Helen Howe of Just-Ice. The charity helps survivors from modern slavery and supports victims of human trafficking.
Just-Ice has set up and runs a café in Poynton, which employs survivors to work in the café and gain useful skills and confidence. The Poynton café specialises in ice cream, but it also offers breakfast, lunch, and afternoon teas to eat in or take away. Helen gave an interesting presentation and provided examples of three case studies that illustrated how Just-Ice is aiming to positively influenced individuals who have had very negative experiences in life.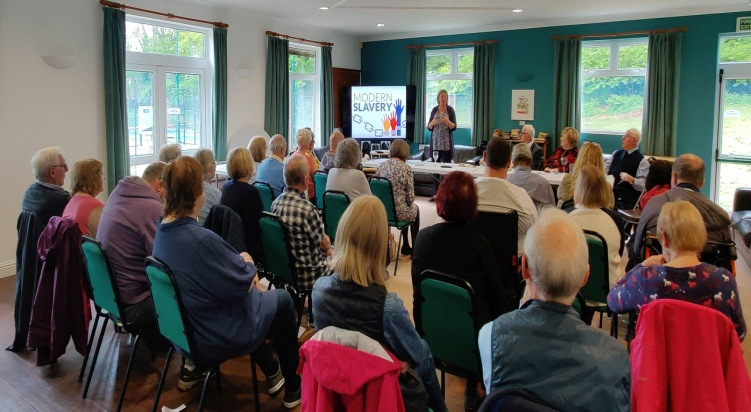 Awaiting the start of the AGM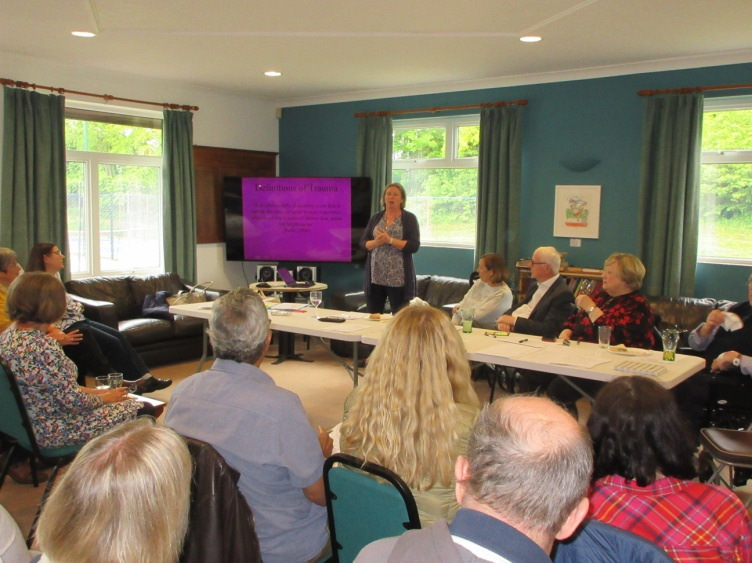 Helen Howe from the Just-Ice charity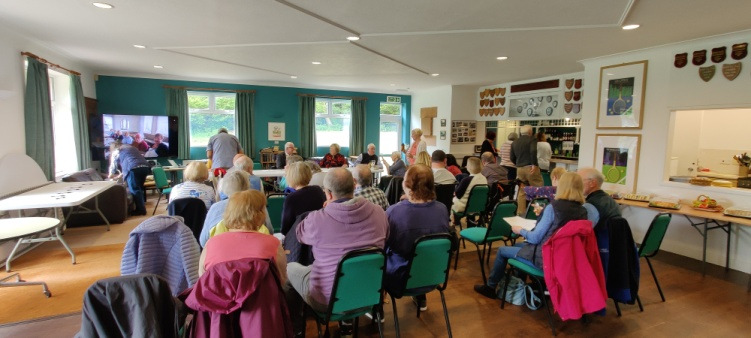 An attentive audience for our AGM speaker
Cadbury World, Bournville, Birmingham - Thursday 27th April - Anne Swindell
Nineteen of us left the Flower Pot on time on Thursday, 28 April for the two-hour journey to Cadbury World. On arrival the cafe was the first port of call before our self-guided tour around the facilities, starting with the discovery of the origins of the cocoa bean, amidst trees and waterfalls deep in the ancient tropical rainforests.
As part of the tour, we watched a film where John Cadbury tells the inspiring story of his early struggles to establish the business and which introduced his sons, Richard and George. Their Quaker beliefs led them to build a new and better kind of factory in a Greenfield site away from the smoke and grime of the city.
The video also informed us how Dairy Milk chocolate got its name. You will all know the old Cadbury's advertisement slogan about the chocolate bar that used to say "there's a glass and a half in every one." There was a lot to see and learn as we walked around. We learnt how to thicken the chocolate and write with it.
Of course we also had to have a drink and saw some of the staff making and decorating various chocolate items. One of the items that they had made recently and was on display during the tour was a massive copy of King Charles III Coronation chair!
At 2.30 pm we met up again for afternoon tea before taking a coach trip around the grounds and buildings which form Cadbury World. One of the Cadbury guides accompanied us on the coach and gave an informative tour of the area as we went around.
\
A poster detailing the making and decorating skills required by the 'Cadbury Angels'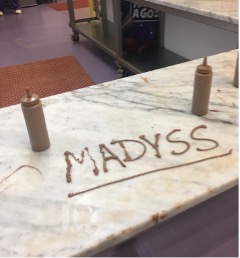 Example of our writing skills in chocolate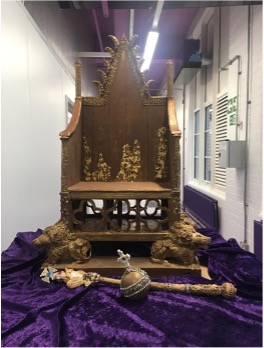 The Coronation chair, sceptre and orb made from chocolate
Quiz Night and Supper Macclesfield Tennis Club, SK11 8JR - Saturday 18th March
Twenty-nine members and friends gathered at the Macclesfield Tennis Club on 18 March where we made valiant efforts to exercise our brains. Our quiz setter was Tracey Higgins (Gary's sister), and she had us tackle four rounds before supper and four rounds after. Subjects were wide-ranging and included Music, Film, Geography, Television, and What Was The Year. In addition, Tracey gave out sheets with twenty photographs of famous people for teams to identify.
Six teams competed In a tightly fought contest, and the winning quiz team was Confused.com who triumphed by the slender margin of half a point! The results were as follows:
| TEAM NAME | TOTAL SCORE |
| --- | --- |
| Confused.com | 82.5 |
| The Quizlings | 82.0 |
| Silken Dream Team | 76.0 |
| Vunderbar | 74.5 |
| The Rejects | 73.0 |
| The Ancient Alers | 71.0 |
The meat and potato pie with mushy peas and red cabbage served half-way through the evening was very good, whilst the vegetarians amongst the group had quiche and salad. The raffle raised £88 for MADYSS. Our thanks for an enjoyable social evening go to: Tracey for running the quiz; Kay as event organiser with Anne helping; Diane Thomas for the raffle; Kay Kennedy and Sue Stephenson for kitchen assistance; and to Debbie from The WIndmill Sandwich Bar who did the caterering.
Judy, Val, Michael and friends
Sue, Kay, Gill, Gary and Tracey at supper
Diane and Paul Sutcliffe with friends
Lunch at the Chilli Banana, Macclesfield SK10 1JX - Thursday 16th February
Twenty-five of us met at the Macclesfield branch of the Chilli Banana for the Banquet Lunch on Thursday, 16 February. It was unfortunate that TIna Yearsley couldn't join us as she was unwell. Her husband Gary will no doubt have reported back on the delicious meal that she missed.
We sat down at two long tables armed with various drinks and chatted as we awaited our five starters that the waiters brought to each table for groups of four. These included spring rolls, pork and prawn crackers, Thai fishcakes, and chicken skewers, which were accompanied with dips of varying spiciness. Our waiters then served us individually with rice for the main dishes. Among these were sweet and sour chicken, a beef and crispy basil leaves dish, Thai green curry, garlic chicken and tofu noodles. Our banquet concluded with Ice cream and tea or coffee.
All in all an excellent meal, and many of us preferred the sit-down banquet to the Sunday buffet that we've sampled here previously. However, we did miss the lovely prawns, which were an integral part of the Sunday buffet!
A huge thank you goes to our Activities person, Kay Evans, for organising the event and for negotiating a sizeable deduction with the Manager from the standard Banquet price! And, of course, to MADYSS for its additional subsidy of the meal.

Paul, Diane and Gary's end of the table
Ten-Pin Bowling - Wednesday 25th January
Fifteen of us went to Macclesfield Ten-Pin Bowling Alley on Wednesday, 25 January. We split into three groups and once we got going the place resounded with loud oh's and ah's and loud cheering as strikes and spares were achieved.
The overall winner was Paul Sutcliffe, second was Diane Thomas, and third was Don Brown. Well done all of you! After two games per group we were all exhausted and so we headed to the Rising Sun for some well-deserved and definitely needed nourishment and revival! Once there we were joined for food by Alan and Barbara Stansfield. A great afternoon was had by all.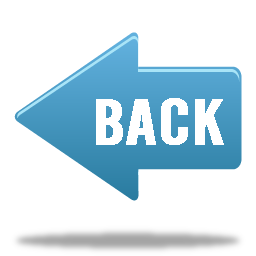 to Events Page

Reports on Events in 2023 &nbsp&nbsp&nbsp&nbsp Reports on Events in 2022
Reports on Events in 2021 &nbsp&nbsp&nbsp&nbsp Reports on Events in 2020 &nbsp&nbsp&nbsp&nbsp Reports on Events in 2019
Reports on Events in 2018 &nbsp&nbsp&nbsp&nbsp Reports on Events in 2017 &nbsp&nbsp&nbsp&nbsp Reports on Events in 2016